Commitment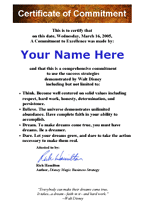 Congratulations! You've started the book, Disney Magic: Business Strategy, and you've decided to commit yourself to master magic business strategies.
No matter your present situation, whether you're in management or a non-management position, you can make Magic in Your Life.
Having genuine commitment requires desire. The very fact that you have read this far is evidence of a certain amount of desire. Commitment also requires belief. You must believe in your ability to master the simple things necessary to succeed with Magic Business Strategy.
Walt Disney said we all can achieve our dreams. In the book, you'll learn Walt's formula for success. We want you to have a special certificate celebrating your commitment to succeed.
To get your certificate, you need to enter the access code from the book. If you've forgotten it, it is located at the end of the Preface near the front of the Disney Magic: Business Strategy book.
Access code: